Es común que los hermanos biológicos compartan tono de piel, aunque es verdad que el mundo está lleno de familias multirraciales. No obstante, los gemelos birraciales con distintos colores de piel son un fenómeno realmente raro pero sumamente hermoso. Cada una de esas coincidencias es muy especial.
A continuación una lista de gemelos bastante dispares que han enloquecido a las redes sociales.
No conformes con tener un poco de papá y mamá, los genes se encapricharon y dividieron sus características físicas en cada uno de los bebés.
Kalani and Jarani Dean were born to Whitney Meyer and her boyfriend Thomas in April. Jarani… https://t.co/RI6n8UDpv4 pic.twitter.com/tOTvZIAf4p

— David Trender (@IceTrends) January 25, 2017
Twins Kalani and Jarani Dean pictures https://t.co/KcfnGL3Epi pic.twitter.com/23pMpveq90

— infowe (@infowe) January 25, 2017
Parents of biracial twins speak about daughters' rare traits https://t.co/2JOks7yI6a pic.twitter.com/0GYIUrBvgg

— wdam (@wdam) January 27, 2017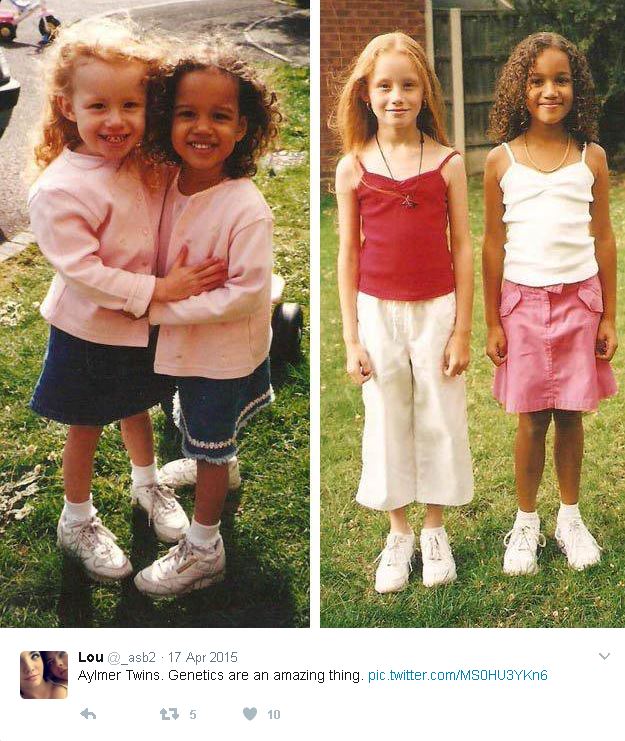 There's never any confusion for twins Lucy and Maria Aylmer… They join us now to chat! http://t.co/RdtRDpjnMu pic.twitter.com/HZXjt0O3q3

— Good Morning Britain (@GMB) March 3, 2015
In 2006, the Hodgsons gave birth to mixed-race twins. Sisters Kian and Remee were born within 1 min. of each other. pic.twitter.com/7G7tEXzMN6

— That Really Happened (@ThatRlyHappened) December 16, 2013
Black and white twin sisters Kian (left) and Remee (right), seven years after they came into the world pic.twitter.com/heErGruf4m

— Moos Oliemans (@MoosOliemans) June 26, 2015
Black and white twinshttps://t.co/3SCZR11N72 pic.twitter.com/AEdTnljLyi

— The Hon. M C G Young (@MCY1X) June 9, 2016
Black and white twins from same egg https://t.co/5ueipU2Xh1 pic.twitter.com/iM2puAFJ8O

— Times LIVE (@TimesLIVE) February 26, 2016
Rare miracle:The million-to-one black and white twins these few years https://t.co/OQpYJqdKn6 pic.twitter.com/ck3mNDOA4e

— blackwhitedate com (@aliceshi003) July 7, 2015
2 sets of mixed identical twins, 7y apart by the same mixed couple. Race is a flawed+fundamentally stupid concept pic.twitter.com/zEEYfJp2Qp

— Imagyd Community (@imagydCommunity) July 9, 2015
This Couple Amazingly Gives Birth To Black And White Twins… Twice! http://t.co/SGT2ARBByi pic.twitter.com/L3jvnq5ql4

— aishwani singh (@AishwaniSingh) October 16, 2015
Mixed mothers both give birth to black and white twins .. pic.twitter.com/RPFVzvYkq0

— Anugrah kurniawan (@ugakz) June 1, 2015
Biracial twins, These two girls are just amazing! Love it!https://t.co/iuAcgy3Njd#interraciallove #singles #interracialdating pic.twitter.com/2K8dHhnl3F

— Vivi (@520sevenvivi) February 9, 2017
These Rare Biracial Twins Are Beyond Adorable – Yahoo News https://t.co/oEOZwboPJ8 #Hollywood pic.twitter.com/wTQAAU8i0C

— Hollywood NEWS (@iHoIIywoodNews) January 26, 2017
JUST PERFECT: This mom gave birth to rare biracial twins! http://t.co/AJ4vn3SZMl pic.twitter.com/wdYnSgnkn0

— ABC 7 Chicago (@ABC7Chicago) October 2, 2014
¡Sorprendente!